Welcome to the Galtee Walking Club
Hello and failte to the Galtee Walking Club, Cnocadóiri na Gaibhlte, based in and around Tipperary in Ireland. Our club has been in existence since 2003 and was started initially by a core group of hill walking enthusiasts who were born and raised around the foothills of the Galtee mountains and the Glen of Aherlow in South Tipperary. Since then, it has grown and diversified and currently has a membership of over 150, drawn from all over Munster. We offer a number of different graded walks on a regular weekly basis throughout the year which are available to new members or to those wishing to join us for a one off sample hike.
more
New Walks Schedule
The schedule of Sunday walks up to the end of the year has been prepared and is now available on the
Walks Schedule page
. The River Suir features strongly in the list of A walks with a number of long distance events following its course. The B and C schedules have a number of walks taken from the list known as the
Tipperary Ten
.
Fei Sheehy Challenge 2016
This fundraising event over three days on the Comeragh, Galty and Knockmealdown Mountains took place on August 19th, 20th and 21st. You can read Gerard Sheehy's report on the Challenge
here
.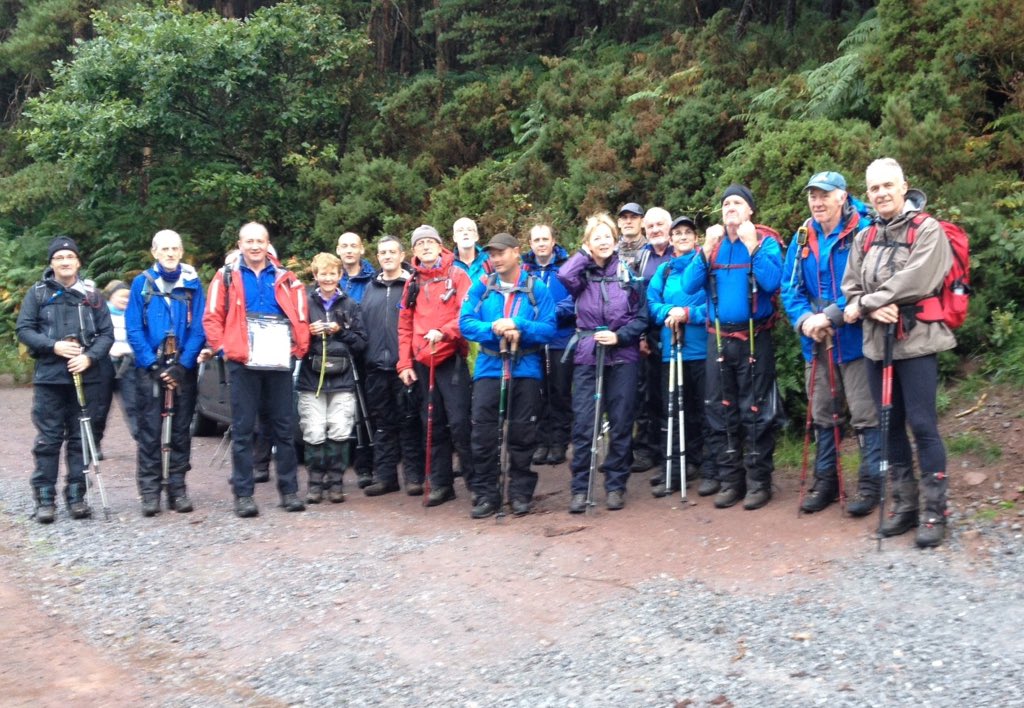 Hollyford Hillfest Walks, Sunday 18th September 2016
Hi all walking clubs and walkers.Walk on Sunday September 18th in Hollyford. Register at 11am in Hollyford Village, walk starting at 12 noon, there is a 14km, 7km and a 2km option, road and forest track, all combined, everyone is together for first half of walk, cost is five euro and is part of our fundraising weekend, tea and sandwiches on return. Please join us for fun and craic for rest of day also.
Contact Pat & Patricia for details 0876100806.
Mangerton & Stoompa Loop Walk
Sunday 7th of August saw a group of 10 walkers made up of both Galtee and Ballyhoura Bears club members travel to Killarney to tackle Mangerton 838m and Stoompa 705m. The looped walk led by Mike Moroney started at Tooreencormick, the site of a battle fought and won by the local Mc Carthy's over the Anglo Norman Fitzgeralds in 1262. The day started clear with fabulous views of the Devil's Punchbowl and all of three of the lakes in the Horse's Glen, Lough Garagarry, Lough Mannagh & Lough Erhogh and while the mist came down in the latter part of the day it did not dampen the spirits. The day finished with a lovely meal in the Muckross Park Hotel.
Protecting against Lyme Disease when taking part in Outdoor Pursuits
Letter from the HSE to all walking clubs in the South East.
Dear Sir / Madam,
I am writing to you on behalf of the South East Regional Zoonoses Committee. We are a multidisciplinary group of Human and Animal Health Professionals from the South East whose remit includes informing the public about diseases that can be passed between animals and humans.
Members of your club are involved in outdoor pursuits and may be at risk of contracting Lyme disease because of these activities.
Lyme disease, which is spread by tick bites, can in a minority of cases, cause severe debilitating heart and nervous system disease. The HSE Health Protection Surveillance Centre issued a warning to people who engage in outdoor pursuits in the summer months; ramblers, campers, mountain bikers and others who work or walk in forested or grassy areas to be vigilant against tick bites. Ticks are tiny insect like creatures that feed on the blood of mammals and birds and will also feed on humans. Ticks are more active and numerous in the summer months and protecting against tick bites protects against Lyme disease.
Tick bites can be prevented by:
Wearing long trousers, long sleeved shirt and shoes.
Using insect repellent.
Checking skin, hair and warm skin folds (especially the neck and scalp of children) for ticks after a day out.
Removing any ticks and consulting with a GP if symptoms develop.
Using tick collars for pets (they can get Lyme disease) and inspecting them for (and removing) any ticks.
Only a minority of ticks carry infection. If a tick is removed within a few hours, the risk of infection is low. The entire tick, including any mouthparts which might break off, should be removed with a tweezers by gripping it close to the skin.
The skin where the tick was found should be then washed with soap and water and the area checked over the next few weeks for swelling or redness. Anyone who develops symptoms should contact their GP and explain that they had been bitten by a tick.
Further important information on protecting against Lyme disease, an information leaflet and a poster are available at
http://www.hpsc.ie/hpsc/A-Z/Vectorborne/LymeDisease/
We would urge you to encourage your members to read this information and we suggest that a copy of the HPSC leaflet and poster be displayed alongside other club information.
Yours sincerely,
p.p P. Brennan
Dr. Sarah Doyle, MB MRCPI MPH MFPHMI,
Consultant in Public Health Medicine,
Secretary to the South East Zoonoses Committee,
Public Health Department.
MRCN 19055
Galtee Challenge/Crossing, Sunday June 26th, 2016
The Galtee Walking Club's Challenge (self navigating) and Crossing (guided walk), a 31km traverse of the entire Galtee Mountain range, took place on Sunday June 26th. Photos of the event can be seen on the
club's photo gallery
and also on the Hillwalking Radio Group's
photo gallery
.
Thanks to everyone who took part in either the Challenge or the Crossing. We hope you all enjoyed the day. Thanks also to all who worked to make the event happen, both on the day and in the weeks and months before hand. We hope to do it all again in June 2017
Group on Galtymore during the Crossing. The highest point on the walk at 919 metres.
Breda Ryan with Danny Mills (right), the first to finish the Challenge at 2;00pm and Tom Egan (left), who came in second at 2:14pm.
Siobhan Hoare, the first woman to finish the Challenge at 2:20pm is presented with her certificat​e by Breda Ryan.
The leading group on the Challenge at point 597. In the photo are Danny Mills, Tom Egan, Siobhan Hoare, Conor Keane, Ger Condon, Pat Geary, James McNamara, and Johnny Walsh.
Beara Breifne Way, July 2nd and 3rd, 2016, The Final Destination.
Report by Deirdre Rafter.
The last stage of the Beara Breifne Way was covered on Saturday 2nd and Sunday 3rd July.
Saturday morning saw the group meeting at Battlebridge just outside Leitrim Village where we started our 25km walk to Dowra, the route brought us along part of Shannon Blueway for a short while before we turned off the canal at Drumleague Lock following mainly small country lanes to the village of Drumshanbo which takes it's name from Droim Sean Bhoth : Ridge of the old huts and is situated on the lower tip of Lough Allen and overlooked by Sliabh an Iarainn, the Iron Mountain. We took a short break in Olivia D's in the village to shelter from the intermittent heavy showers before taking to the road again where we passed by the old famine graveyard where over 500 people were buried during the Great Famine a sobering experience when you consider that this amounted to half the population of the village at the time. A short detour brought us to St Hugh's Well which due to the water's high iron content is orange in colour, the well is not far from Ballinaglera Village where we visited Rynn's Grocers, Public House and Undertakers this little premises would bring you back the years with it's quaint wooden shelves, the old weighing scales still in use, even the old latch on the door. We had a short break here before making our way to Dowra, made famous during the Garda Nangle incident which made national headlines in the early 80's. We arrived into the village just as the Mart was finishing where one of our walkers, we won't mention any names, got propositioned by a middle aged bachelor whose mother had broken her hip the night before. He got straight to the point outlining how many acres of road frontage he had, how many head of sheep etc. It was like a scene from a John B Keane play. The outcome of that proposal is still uncertain!
Sunday morning we had much drier weather which made for a beautiful walk, we were taxied back to Dowra to begin our final trek to Blacklion, this section of the Cavan Way is so tranquil, following beautiful little country laneways and paths in places maybe a couple of feet wide bordered by little stone walls and with lovely views of Cuilcagh Mountain similar in shape to Ben Bulben and Knocknarea, Cuilcagh is the highest point at 665 metres in both Cavan and Fermanagh. Water from it's southern slope flows underground until it reaches the magical Shannon Pot a few miles away, the traditional source of the mighty river. Of course we took a short detour off the trail to visit the Shannon Pot and it was well worth the extra steps.
The walk then took us through the Cavan Burren Park with it's amazing views of both Cuilcagh and Lough Mac Nean, another short detour brought us to Tullygobbin Wedge Tomb known locally as the giant's grave, folklore tells of two young giants, Lag and Lugh, who both fancied a young female giant, in their efforts to impress her they challenged one another to jump over a wide chasm, Lag in a fit of bravado thought he could jump backwards, but he fell to his death and was supposedly buried here beside the chasm now known as the Giant's Leap. Our final few kilometres saw fabulous views of both lower and upper Lough Mac Nean as we made our way downhill into Blacklion, Co. Cavan. Where better to celebrate this fantastic achievment than to dine with Neven Maguire in Mac Nean House Restaurant, where the man himself was only too happy to hear of our adventures over the last 2 years. Thanks to Gerry's Taxi Service Belcoo Co Fermanagh, Blacklion Holiday Homes where we based ourselves over the weekend, to Maureen Browne who arranged the accomodation and transport, to Mike Moroney who lead the walk and got us to our final destination, to everybody who joined us along the way whether it was for a day or two here and there or more, we have had an absolutely amazing experience.
Beara-Brei​fne Way on the weekend of July 2nd and 3rd, 2016. The final destination.
photos
Wednesday Evening Walk, June 29th, 2016.
Mike Moroney's Wednesday night walk to Knockastak​een (Hill of the Little Stacks or Ridges) on June 29th, 2016.
3 photos
The Views from Lyracappul

A poem by Rody Tierney


From the little Assaroola stream that joins the River Aherlow
I will climb to Lyracappul and survey all below
It is to the beauty of our precious glen that I will treat my eyes
Then ponder on the Shrough Dolmen where an ancient chieftain lies
Now with my back to the famine wall I gaze out further north
Beneath the gentle Phelims where three great warriors fought
O'Sullivan Beara an Patrick Sarsfield to name the recent two
And before their time the King of Munster - the legend Brian Boru
Peeping from above the Phelims is Keeper Hill and Mathair Sliebh
Where Eamon an Cnoic was hunted and found refuge in a cave
I can just make out the Devil's Bit to my right in the distant haze
But not the view from Toomevara where I grew up and played
Alone, alone and directly east stands lovely Slievenamon
Where Grainne raced up to the summit and won her sweetheart Fionn
Charles Kickham used your name to title his fine song
And lose, draw or win Tipp men will sing about you Slievenamon
To the south is steep Bengower, the Glounreagh valley and Seefin
The Blackrock river and Knockaterriff above the pigeon rock sweet glen
Looking west on this fine clear day - I can see the Kerry reeks
But nearer still is Temple Hill with that large cairn on its peak
Now as I have left you Lyre na Cappal and your beauty spots galore
I will pause and bless myself at the cross on Galteemore
Then scamper over Galteebeag and down the Geisha steps
And battle up the slope of Cush – it will surely put me to the test
My pleasant trek is over now and I must make my way on home
The hills and valleys I'll leave behind for another day to roam
To Bianconi's coach road pub I'll call and drink a pint or two
Then before I cross over Slievenamuck I might sing a song for you